News
Create a more engaging community with comments for your event page
Wednesday, March 06, 2019
Community members can now comment on event pages. When a new comment is posted, notifications will go out to all the participants of an event. This feature helps foster discussions that carry on beyond events themselves, leading to a more engaged community.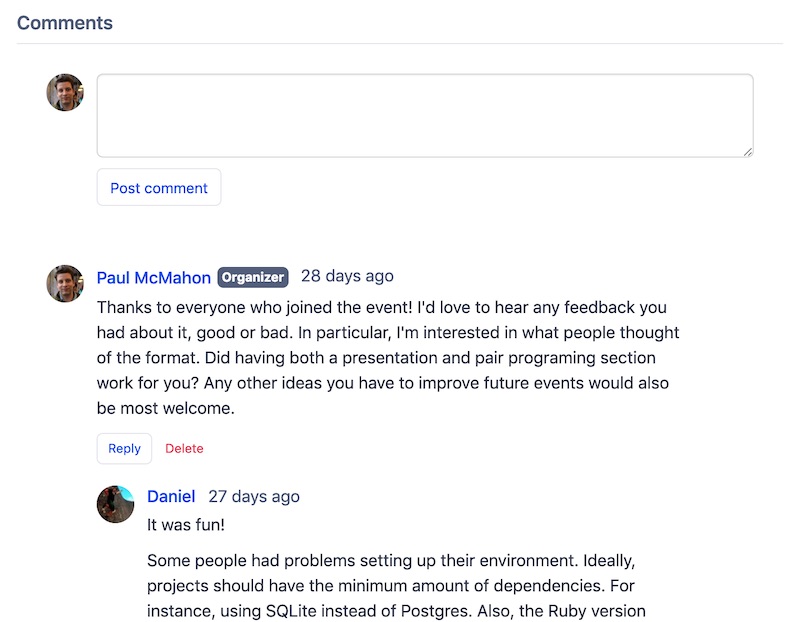 By default, this feature is turned off, as we want to hear your feedback about it before we roll it out more widely. To try it out, enable it through your community settings.
The biggest risk of this feature is that unscrupulous people will use it to post spammy comments promoting their product or services. To combat this, we're automatically flagging any suspicious comments for moderation by the community organizers before they are publicly displayed. While our flagging system isn't perfect, we think it should weed out most noise.
Example use cases
There's many potential use cases for comments, and we're excited to see how you use them. These are some of the use cases we had in mind when building this feature.
Presenter posting slides after event
Event participants often want to have slides after a presentation. By having speakers post slides as a comment, not only will participants be able to see the slides themselves, but also follow up with the speaker about any questions they had about them.
Participants carrying on discussions from the event
Good events spark discussions. Comments allow participants to share extra information or insights they've had after the event is over. For instance, a participant could share a link to an article that is an interesting counterpoint to one of the presentations at an event.
Organizer soliciting feedback from participants
Sending a survey to participants about the event is one great way to improve future ones. But there can also be a benefit in publicly discussing how the event went, as one participant's feedback can inspire another to give additional insight.
Questions from participants about the event
Sometimes participants have questions about something that isn't clear from the event description. By having them ask the question as a comment, it helps make it more clear for everyone.
We need your help
While we've tested this feature at events we organize ourselves, we need a wider audience to try it out. So we'd really appreciate it if you give it a spin, and encourage your community to actively use it. We're really eager for any feedback you have on it, and would love to hear your ideas for how we can help you build a more engaging community.