News
Better Messages - Automatic Reminders, Scheduled Messages, and Stats
Thursday, March 16, 2017
With Doorkeeper, you can communicate with your community and event participants through our messaging feature. We've introduced a number of features to make it even more powerful.
Automatic Reminders
We know many of you send reminders to participants, with last minute instructions in them. Because we want to give organisers the maximum control over their event, we haven't been automating this process. The downside to this approach has been some organisers forget to send out reminders.
We're now introducing automatic reminders that will still give organisers the same level of control as before. When you publish your event, we'll automatically schedule a reminder to go out to registered participants a day before the event is held. As the organiser, you'll be able to customize this message, or prevent it from being sent all together. So organisers can still control how reminders are sent out, while making sure participants don't accidentally miss a reminder.
Scheduled Messages
Rather than sending out a message immediately, you can now schedule it to be sent sometime in the future. This allows you to ensure a message goes out at a specific time without needing to manually time when it is sent yourself.
Messaging Stats
To help give you an idea of how successful your messages are, we're now showing you the percentage of messages that have been opened and that have been clicked on. We also provide you with the rates for similar messages in your community and Doorkeeper as a whole.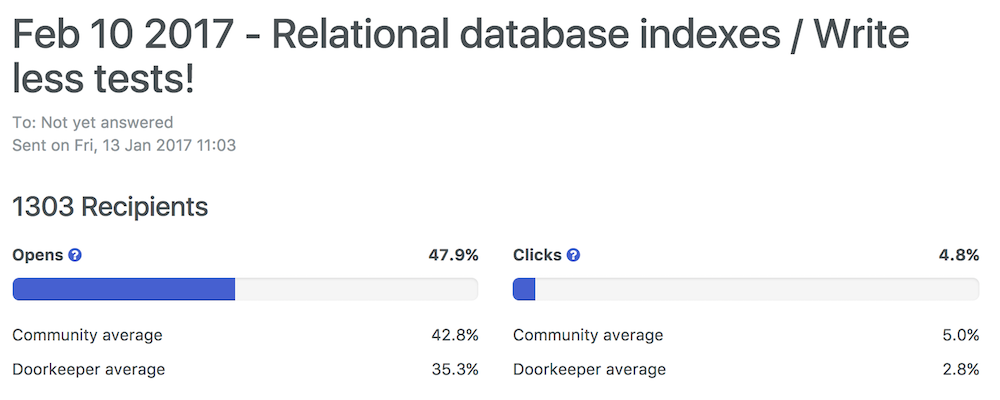 We've been recording this data for internal tracking reasons for a while now, and are exposing these stats for messages sent as far back as we have data for (July 21st, 2013).