News
All your Doorkeeper events in one place
Thursday, June 27, 2013
As Doorkeeper has grown, we've heard from many of you that you want an easy way to see and manage all your Doorkeeper events in one place. We've listened, and now added the ability for you to see and manage all your events in one place, the new personalized home page.
Read on for the details about what has changed.
See all your Doorkeeper events in one place
When logged in to Doorkeeper, you'll now see a link in the top navigation bar like " Paul McMahon". Clicking on this link will take you to your personalized home page.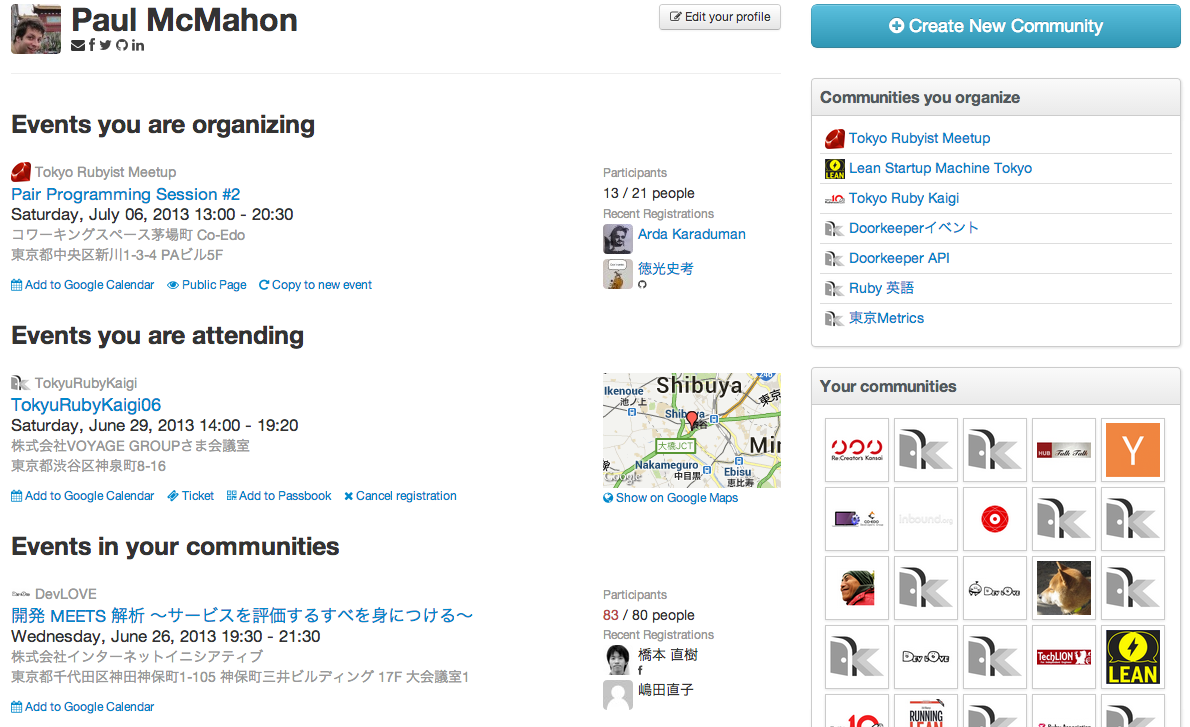 This page contains everything important to you at a glance. You can easily jump to the events and communities you are organizing, see all the communities you've joined, and see the upcoming events in your communities.
Easily manage your Doorkeeper account and communities
We've also added an page where you can manage your Doorkeeper account and community preferences in one place.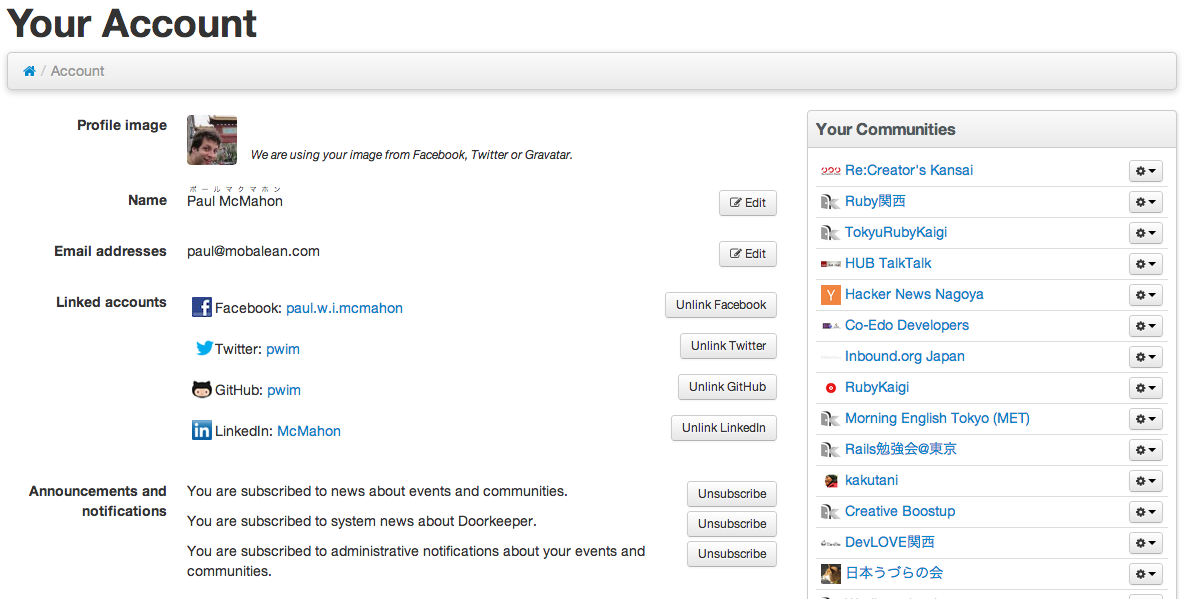 Here you can link your SNS accounts for easy authentication, edit the email addresses associated with your account, and change your email preferences for your communities.
Easily jump between public and management pages
When you are an admininstrator of a community, we now show an admin panel to your community's public pages.

Additionally, if someone who is not an administrator of your community visits your management pages, we'll redirect them to the public pages. So even if you accidentally share the link for the management page of an event, participants will still be able to sign up for it.
Extra security for participants
When you visit a link from a Doorkeeper email, such as the "Register" link in an event invitation email, we automatically sign you in to the public community pages. This allows you to view your ticket and quickly sign up for other events.
For added security, to access the new home and account pages, or manage your events or communities, we require you to securely sign in over an SSL encrypted connection. This means when accessing any of these pages, we'll prompt you to authenticate with one of your linked SNS accounts, or by providing the password for your account.
As we don't require you to sign in with a SNS account or set a password when attending an event, it may be that your account doesn't have a secure authentication method yet. In this case, we'll send you an email through which you can set a password for your account.
Ending feature phone support
When we started Doorkeeper, Japanese feature phones were an important part of the mobile ecosystem, so we support event registration with them. However, we've found that now less than 1% of all registrations for events are from feature phones, and no community has more than a couple people registering with them.
As such, we have decided to focus on the PC and Smartphone experience. The new home and account pages are accessible from PC and Smartphone browsers, but will not be available for Japanese feature phones. Further, we will end support for feature phones on August 15th.