News
New in Doorkeeper: Ticket Types!
Monday, May 21, 2012
We are excited to announce a new feature for Doorkeeper which allows you to have multiple ticket types, and thus prices, for your events. Moreover, you can also specify the availability for each of these ticket types.
This opens a range of possibilities for attracting more attendees to your events.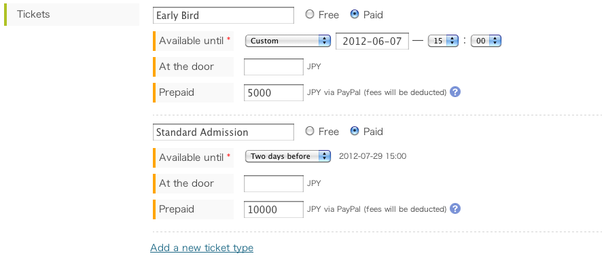 Examples for Ticket Types
Early Bird
To encourage early sign up for your event, you can now offer discounts to people who sign up for the event before a certain date.
Optional Reception Party
If you are holding an event with an optional reception party for an additional fee, you can now have bundled tickets and encourage people to participate in the reception as well.
Special Prices for Members
You can now have different prices for members of your professional organization and the general public.
Ticket Availability
The new ticket types allow you to specify a deadline after which participants will no longer be able to select that ticket type when registering for your event. Once all ticket types for your event become unavailable, registration will now automatically close.
This streamlines the flow, so that once you've setup an event, you don't need to touch it again.