News
Event registration form customization and email notifications
Monday, January 30, 2012
We're always looking for new ways to provide you with more information about the people attending your events. While you've always been able to ask for custom information about the participant, sometimes you just want to ask for some information specific to an event, such as the meal preference or participation in the after party.
So we have now made it possible to customize the registration form for specific events. From your event dashboard, select "Customize Registration" and you will get to event questionnaire builder as seen below.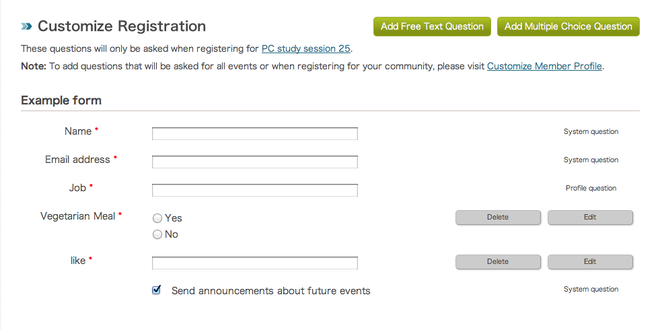 We've also added another new feature - registration email notifications. In order to stay up to date with what is happening with your events and community, Doorkeeper will also now send you notifications whenever someone registers for your events or community. If you don't wish to receive these notifications, you can disable them from your preferences.